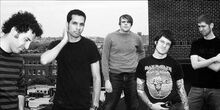 Arma Angelus was a metalcore band from Chicago, USA. The band was formed in 1998 and broke up in 2002. Members of the band were Pete Wentz (vocals, also bass guitarist in Fall Out Boy and Black Cards), Tim McIlrath (bass guitar, now lead singer of Rise Against), Jay Jancetic (guitar, last played guitar for the Chicago band Holy Roman Empire), Daniel Binaei (guitarist), Adam Bishop (guitarist, now an English teacher at San Dieguito Academy in Encinitas, CA) and Timothy Miller (drums, Last played drums for Arizona based punk band Last Action Zeros & now owner of Immortal Art Tattoo & Body Piercing, located in Scottsdale, Arizona).
After McIlrath left to form Rise Against, he was replaced in 1999 by Christopher Gutierrez (known to Fall Out Boy fans as the "Hey, Chris" in "Grenade Jumper" from Take This to Your Grave). Gutierrez is now a touring author and spoken word artist.He was replaced as bass guitarist for one tour by Joe Trohman (also a guitarist in Fall Out Boy and in The Damned Things). He was replaced mid-tour when the band flew Chris Gutierrez out to New York for the final half of their tour, including a stop at CBGB's.
In the last Arma Angelus concert, Patrick Stump played drums, Pete Wentz sang and Joe Trohman played guitar, along with Adam Bishop, and Christopher Gutierrez on bass guitar.